The benefit of installing your Pinterest tag and configuring events really has to do with campaign optimization, audience segmentation, and retargeting. The data collected can be used to help your audience move farther down your funnel and even become repeat customers.
What is a Pinterest Tag
What is the Pinterest tag? The Pinterest tag is a piece of code that you add to your website which lets Pinterest track visitors to your site as well as the actions they take on your site after seeing your Pinterest ad.

Pinterest
You want to set up your Pinterest tag as soon as possible, even if you aren't running ads yet. Your future self will thank you!
Step 1: Install Pinterest Tag
How to Install your Pinterest tag on Shopify
Shopify and Pinterest make it so easy! All you have to do is log into your Shopify, add the Pinterest app, follow a few easy instructions, and that's it!
How to Install your Pinterest Tag on WordPress
You'll want to start by having two windows open in your internet browser. 1 for Pinterest and 1 for your WordPress Dashboard.
Log into your Pinterest Business account and from the Ads dropdown, click on Conversions.
Pinterest recommends that you click on the WordPress button (toward the middle of the screen). You could do this and follow the prompts however the "free" 3rd party plugin that they recommend is no longer free. They are charging $90 per year.
I recommend that you install the Pinterest tag manually.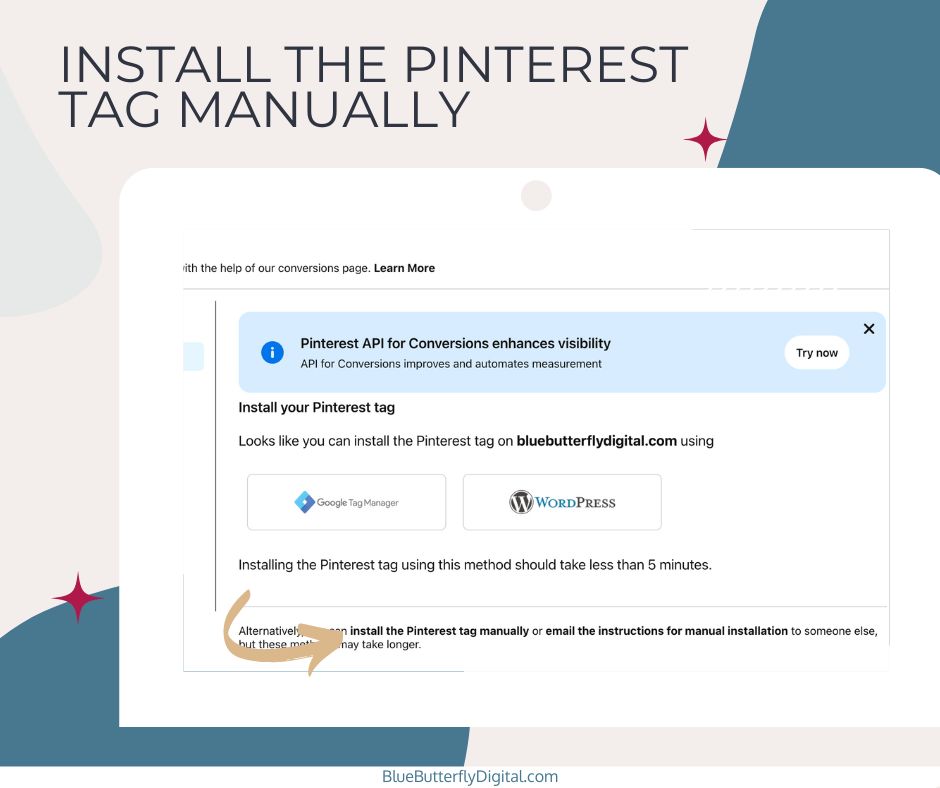 Scroll to the bottom of the Conversions page and click on "Install the Pinterest Tag Manually".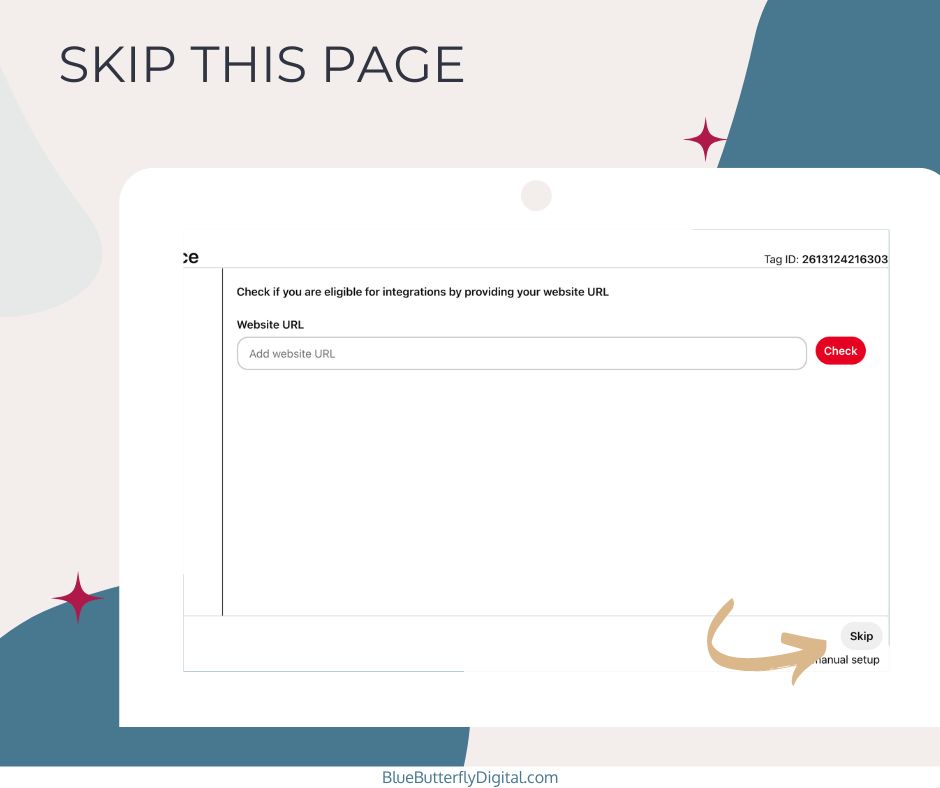 The next screen will ask you to enter your website URL. Don't do that. Instead, click Skip in the lower right-hand corner.
That will take you to a page with your base code. You'll want to copy this code from Pinterest and paste it into the header of your WordPress website.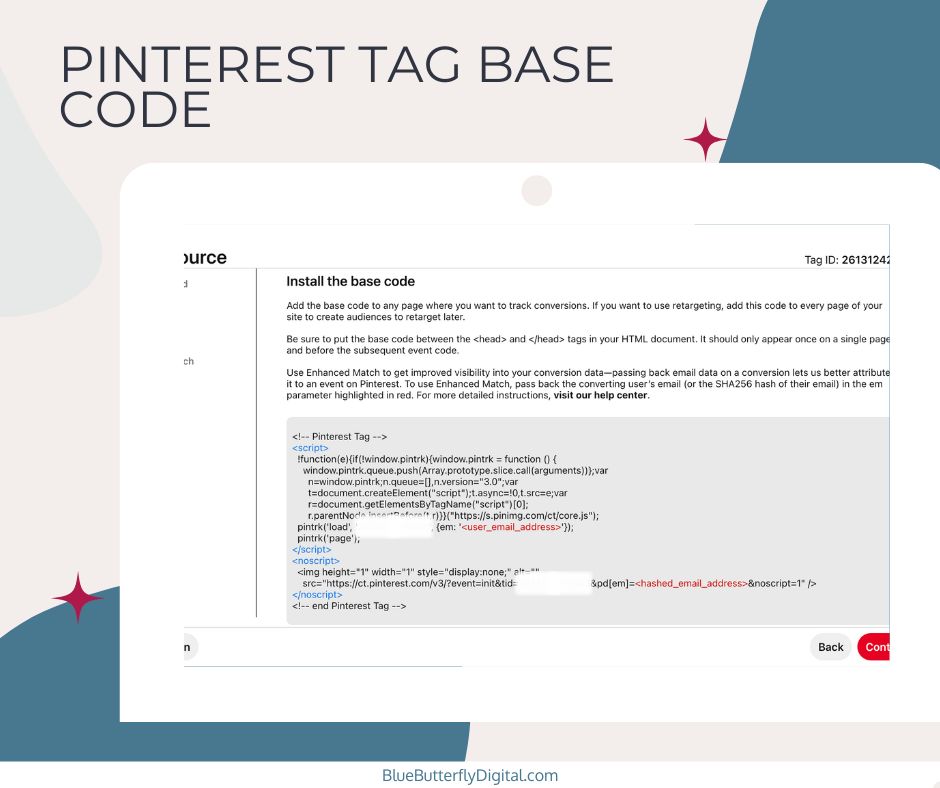 If your WordPress theme does not have a header code section, then you can use a plugin like Head, Footer and Post Injections by Stefano Lissa. (I've been using that plugin for years and it's worked beautifully.)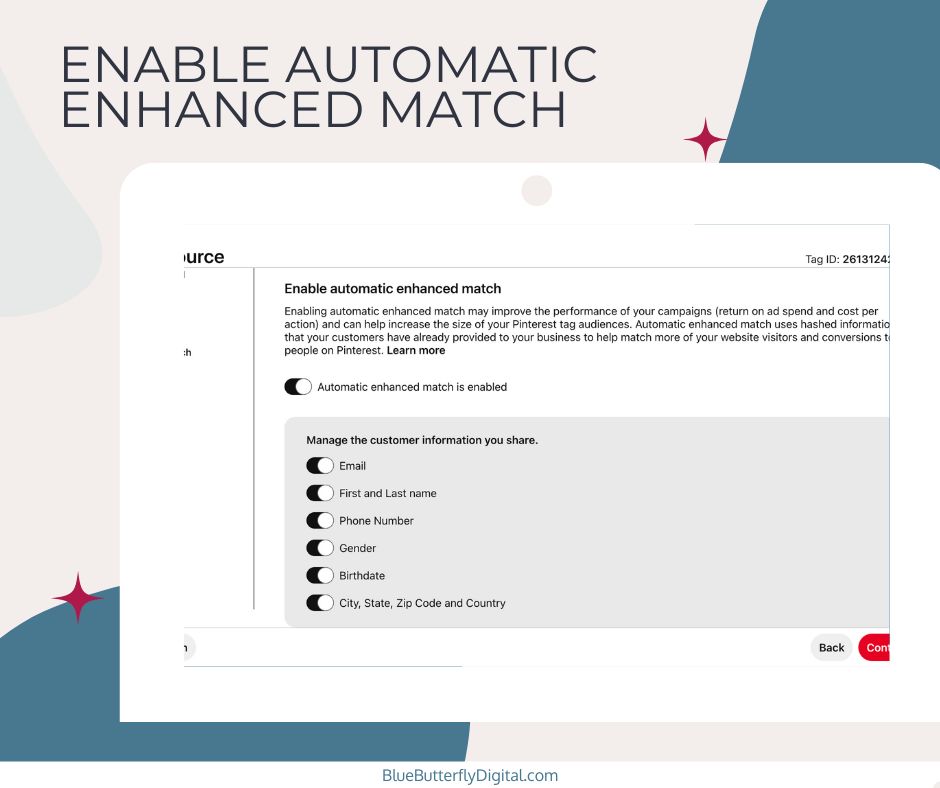 Once you've saved the base Pinterest tag code to your WordPress Header, it's time to head back to Pinterest and click Continue. Pinterest will ask you to "Enable automatic enhanced match", I recommend leaving the default options selected and click Continue.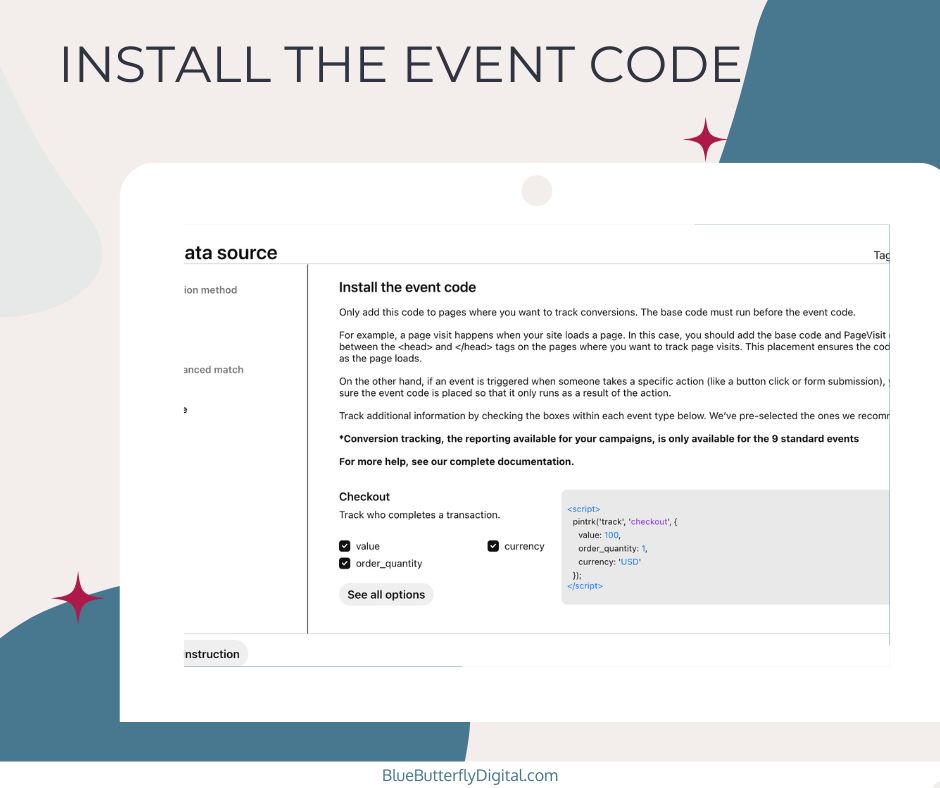 The final step is to "Install the event code". See the Pinterest Event Codes Cheat Sheet section for more information on Event Codes.
You'll need to copy the applicable Event Code(s) and paste them into your header on your WordPress site. This will be done one at a time and below the Pinterest Base Code.
Once you've installed your Event Code(s) then you can click Done.
How to Install your Pinterest tag with Google Tag Manager
Here's a short video (9 minutes & 8 seconds) that I created showing you how to install your Pinterest Tag & Events using Google Tag Manager.
In this video, I'll walk you through how to add the Pinterest tag to your website using Google Tag Manager.
Step 2: Track Pinterest Events using Pinterest Event Codes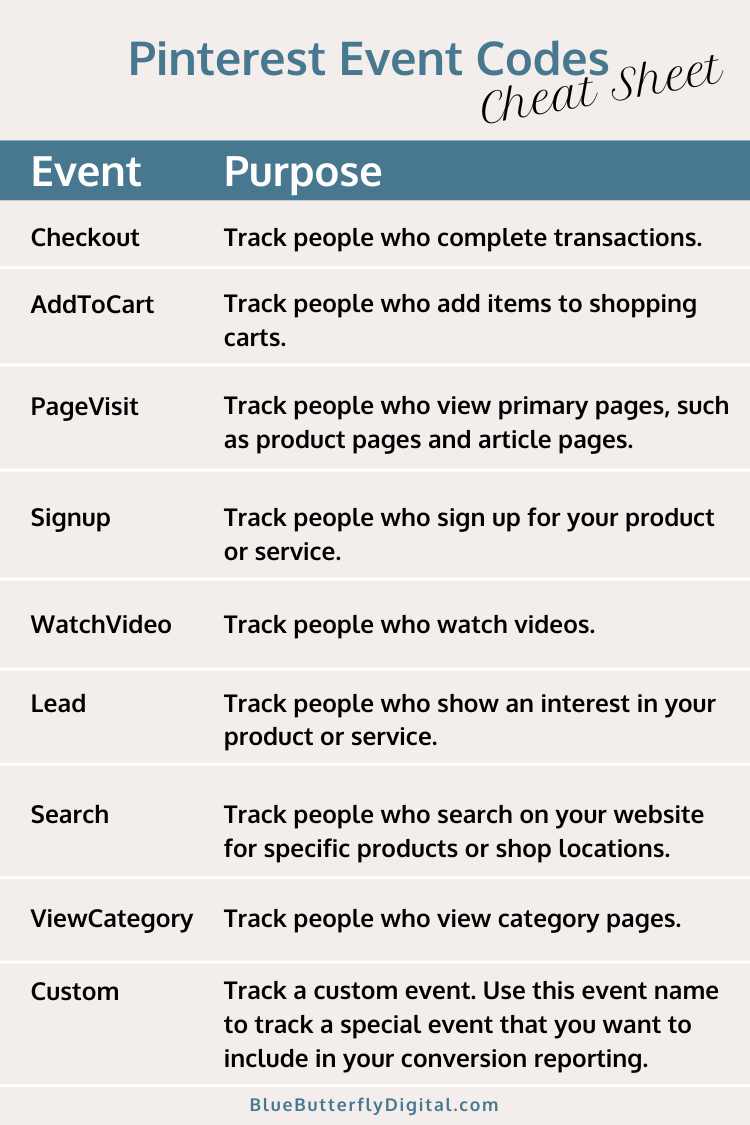 Pinterest Event Code
You'll want to install Pinterest Event Code as soon as possible because it will start tracking the actions of people on your website as soon as you install it. This will be invaluable when you're ready to start running ads.
Important Event Codes for all businesses
Every site should have the PageVisit Event Code installed. This will allow you to retarget Pinterest users who have visited any and/or specific pages on your website with Pinterest Ads.
Important Event Code for eCommerce
Every eCommerce site should have the PageVisit Event Code, Checkout, and AddToCart. It's possible that other event codes might apply depending on the site.
Important Event Code for Service Providers
Every coach, online course, membership site, and service provider should install the PageVisit, Signup, and Lead Event Codes. It's possible that other event codes might apply depending on the site.
Step 3: Verify Pinterest Tag and Events are Tracking
It's quite simple to verify your Pinterest Tag and Events are installed correctly and collect the data you want. You can do this one of two ways.
Option 1 to verify your Pinterest Tag and Events
From your Chrome browser, install the Pinterest Tag Helper extension.
Once it's installed, you can go to your website, click on the Pinterest Tag Helper extension and it will let you know that everything is working correctly or where any problems might be.
Option 2 to verify your Pinterest Tag and Events
Log into Pinterest, select Conversions from the Ads drop-down menu and Pinterest should take you to the page that shows your Tag activity. Note: This option might take a couple of days before any data shows up.
Conclusion
It's important to install you Pinterest Tag and Events Code on your website even if you are not planning on running Pinterest Ads. Pinterest users are growing and Pinterest users are buyers.
If you'd like help installing your Pinterest Tag, I'd be happy to install it for you. Just book a Free Discovery Call and let's get you all set up.